Description
Fanvil i32V SIP Video Door Phone
The Fanvil i32V is designed for outdoor scenes with high reliability, HD Audio/Video, and IP65/IK10 protection grade. It combines with access control, security, audio/video intercom and broadcasting functionalities for smooth, safe and clear communication.
Built-in HD camera with infrared night vision, adopt H.264 codec
Access control (by call, RFID/IC card and indoor switch)
All-in-one (Access control, Intercom and Broadcasting)
HD voice speech quality with built-in 3W speaker and Acoustic Echo Canceller (AEC)
IP65 waterproof and dustproof
IK10 anti-collision with robust die-cast aluminum frame
-40°C to 70°C wide range temperature adaptability
Support online management and upgrade
Compatible with major platforms: Asterisk, Broadsoft, 3CX, Metaswitch, Elastix, Avaya etc.
Applications
Prisons
Holiday Home
Warehouses
Different ways to unlock the door with fanvil i32v

Support to open the door with RFID/IC cards, remote DTMF and indoor switch.

Support HD Video and Two Video Streams

With HD camera with infrared night vision, visitors can be identified clearly even at night. Support two video streams in which the main code stream works for high-quality video on monitoring and the subcode stream for smooth SIP video call.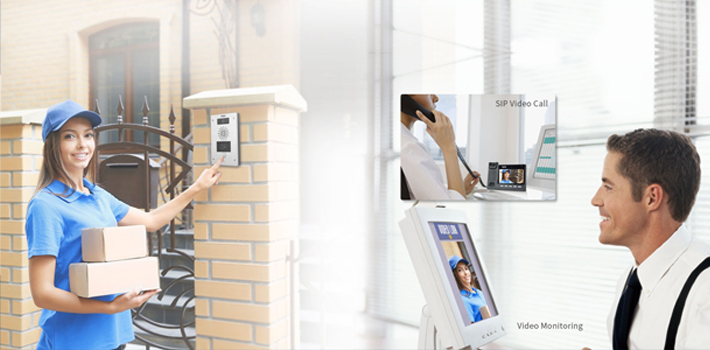 Multi-Protection Design

Featuring the waterproof and dustproof grade IP65, the anti-collision standard IK10 and the wide temperature range from -40℃ to 70℃, i32V can be applied in different kinds of outdoor environment.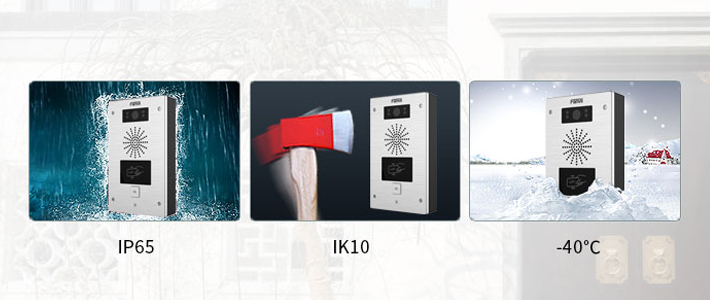 Fanvil i32V – Technical Specifications
Generic
2 SIP Lines
Full-duplex handsfree
Intelligent DSS Keys (Speed Dial/intercom etc)
Auto answer
Intercom function
Industrial Standard Certifications: IP65&IK10, CE/FCC
Access Control Function
Unlock door method: DTMF, RFID/IC card, indoor switch, WEB page
Support 2000 Remote access list
Support 2000 RFID/IC cards
Support 200,000 door open records
Support electric lock internal or external power supply options
Dynamic multicast function
Support ONVIF
Support customised DSS keys
Network Time Synchronisation
Action URL / Active URI
Audio
Narrowband Codec: G.711a/u, G.723.1, G.726-32K, G.729AB
Wideband Codec: G.722
Full-duplex Acoustic Echo Canceller (AEC) ̢ Hands-free Mode, 96ms tail-length
Voice Activity Detection (VAD) / Comfort Noise Generation (CNG) /Background Noise Estimation (BNE)
Packet Loss Concealment (PLC)
Dynamic Adaptive litter Buffer up to 300ms
DTMF: In-band, Out of Band DTMF (RFC2833) / SIP INFO
Video
Sensor: 1/2.7" colour CMOS
2 Megapixels
Video Code: H.264
Resolution:
– Main stream 1280×720@25fps
– Sub-stream 704×576(D1)@25fps
Viewing angle: 112° (H), 84° (V)
Minimum illumination: 0.1Lux, support for infrared illumination
Networking
10/100 Mbps
IP Configuration: Static / DHCP / PPPoE
Network access authority authentication: 802.1x
VPN: L2TP / OpenVPN
VLAN
LLDP
Protocols
SIP2.0 over UDP/TCP/TLS
RTP/RTCP/SRTP
STUN
DHCP
LLDP
PPPoE
802.1x
L2TP
OpenVPN
SNTP
FTP/TFTP
HTTP/HTTPS
TR-069
Deployment & Maintenance
Auto-Provisioning via FTP/TFTP/HTTP/HTTPS/DHCP/TR-069/SIPPNP
Web Management Portal
Web-based Packet Dump
Configuration Import/Export
Firmware Upgrade
Syslog
Physical Specifications
1 DSS button (speed dial button)
1 RJ45 port
1 Wiegand port
1 audio output interface
1 recording output interface
2 embedded short circuit input interface
2 relays: MAX DC30V / 2A, AC125V / 0.5A
Active switching output: 12V / 500mA DC(only 1 relay support)
2 door magnetic detection interface
1 tamper alarm switch
RFID reader: ID (EM4100,125KHz) & IC(MIFARE ONE,13.56MHz)
Power: DC12V/1A or PoE
Housing material: aluminum alloy shell
Protection level:IP65 and IK10
Installation: Wall-mounting
Working temperature: -40 ~ 70 °C
Storage temperature: -40 ~ 70 °C
Relative humidity: 10% – 90%
Equipment Dimension: 195x120x34mm
Packing Dimension: 260x165x62mm
Outer CTN Dimension: 348x328x280mm(10 PCS)
Equipment weight: 1015g
Safety Instructions when handling this product
Please read the following safety notices before installing or using this unit. They are crucial for the safe and reliable operation of the device.

Please use the external power supply that is included in the package. Other power supply may cause damage to the phone and affect the behavior or induce noise.
Before using the external power supply in the package, please check the home
power voltage. Inaccurate power voltage may cause fire and damage.
Please do not damage the power cord. If power cord or plug is impaired, do not use it because it may cause fire or electric shock.
Do not drop, knock or shake the phone. Rough handling can break internal circuit boards.
This phone is design for indoor use. Do not install the device in places where there is direct sunlight. Also do not put the device on carpets or cushions. It may cause fire or breakdown.
Avoid exposure the phone to high temperature or below 0ȭ or high humidity.
Avoid wetting the unit with any liquid.
Do not attempt to open it. Non-expert handling of the device could damage it.
Consult your authorized dealer for help, or else it may cause fire, electric shock and breakdown.
Do not use harsh chemicals, cleaning solvents, or strong detergents to clean it.
Wipe it with a soft cloth that has been slightly dampened in a mild soap and water solution.
When lightning, do not touch power plug, it may cause an electric shock.
Do not install this phone in an ill-ventilated place. You are in a situation that could cause bodily injury. Before you work on any equipment, be aware of the hazards involved with electrical circuitry and be familiar with standard practices for preventing accidents.How to configure and install i32v is described in the guide below
manual= fanvil_i16v_i32v_user_manual